Well,  2023 has been a different kind of year for us. 
 After fairly big UK and USA tours in '22 we certainly felt the need to readdress how we do things.   Figuring out a way to tour that is less time consuming but still doable is a challenge. We had the added issue that Sammy's eye condition had returned, (the right eye was bleeding again as treatments were postponed for 11 weeks because of the USA tour.) 
 With this in mind, and some other medical tests/issues coming along we decided that 2023 needed to be the year we took care of health business.  This is of course financially a hard decision as usually by now we have our work year mapped out.  We also had a sense that this year was a time when we could host others, give respite, times of peace and care right here in Ireland.  This has been the reality so far and the Horner Hotel has had swinging doors every month this year with visitors coming through almost every month for the rest of the year. 
We hope to play some shows locally and possibly look at European /UK shows at some point later in the year, these will need to fit around hospital appointments which limits us from booking long-haul tours to the USA etc. 
Sammy worked on producing an album for Scottish Artist Sheila Easson around the end of '22 and early '23.  This should be available later this year.  In April we will be hosting a Mercyland Songwriter Workshop here in Gorey.  Founded by American Grammy winning musician/songwriter/producer Phil Madeira, this will be the first Irish workshop. Around fourteen of us will get to work creating new music from April 11th.
On our minds a lot is our mission work.  Covid prevented us from going to Thailand for the past 3 years and so there have been no Trade-Off schools in that time. We hope to return late summer to run schools again. 
Ukraine is also on our mind often and Sammy has already made two trips there to bring aid, relief, music and support.  This has been intense but important and will, as best we know be an ongoing part of our mission trips.  
This July The Sweet Sorrows have been invited to play in Ukraine at an event in which men will bring their families back to the country to all gather together for the first time since the beginning of this conflict. An act of unity, defiance and courage, this will of course be carefully planned by event coordinators.
Sammy hopes to be in the studio with The Electrics  later this year for an album of new material, the band will also play two festivals in Germany May 5th and 6th:
 IG-Narsapur Revival- & Abschieds-Festival   and   CRN One More Song  respectively.
So, all in all, a very different year for us.  We are looking forward to how it works out and are thankful for our Patreon and Modern Day supporters.
We simply could not do any of this without your support (we are more thankful than you can know). Everything we do is based in relationship, from booking tours, places to stay, getting gear, running Trade Schools, bringing aid or simply hosting others…it's you who make it possible.  
If you'd like to get onboard with  Patreon  or Modern Day you can find us at these links.  This literally keeps the 'wolf from the door' for us.  (If you are a US citizen you get a 501c3 tax break with Modern Day.)
Thanks for all you do for us so that we can do things for all of you!
Blessings,
Sammy & Kylie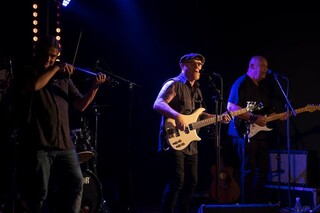 https://www.modernday.org/profile/sammyandkyliehorner/
https://www.patreon.com/SammyHorner