"

The Sweet Sorrows bring Celtic charm and edge together with soft harmonies to create an Americana/Celtic/Roots fusion."
— CrossRhythms UK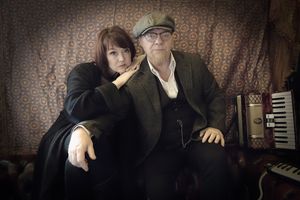 About
Based in Co. Wexford, Ireland, The Sweet Sorrows are veteran Irish singer-songwriter Sammy Horner and his Australian wife Kylie. They  globally tour their acoustic/folk/Americana music delighting audiences with their humour and vocal harmonies. Sammy's guitar and bodhran is matched by Kylie's whistles, accordion and melodica.
An evening with The Sweet Sorrows always promises to be highly entertaining, provocative and moving. Their intimacy, transparency and strength of passion on stage has won them many fans.
"Touching, humorous and a lot of charm - thank you for a wonderful evening!"  ( TOPOFF Restaurant and Kulturzentrum, Switzerland)
BIO: Sammy Horner
Sammy Horner, born in Belfast, was the founding member of Celtic Rock combo The Electrics. He made seven albums with the band and toured extensively in Europe and the USA. As well as touring The Electrics, Sammy has had a successful solo career as a producer, writer and performer.  He has played shows around Europe, USA, Canada, Australia, Thailand and South Africa. With over forty albums in his body of work, he has received critically acclaimed reviews the world over. He has produced other artists in both Europe and the USA, also played bass for Buddy & Julie Milller, Phil Madeira, Mitch McVicker and Glen Kaiser. He has shared stages with Motorhead, Cliff Richard, The Alarm, Therapy?, Bob Geldof, Bruce Cockburn & Martin Joseph, and had songs covered by numerous artists including Buddy & Julie Miller.
"

You've heard of Robert Plant & Allison Krauss, Mark Knopfler & Emmylou Harris, Glen Hansard Marketa Irglova, now listen to The Sweet Sorrows. The rugged Celtic edge of Sammy Horner joins the dreamy sounds of Kylie Horner to produce some thing new indeed. Something...Different."
— Clive Price, UK Music Journalist and Author